08.11.2019.
Maki Yamamoto, who won the 13th Grand Prix and Shin-ei Animation Award at 81 Audition, played the role of Kaki who appeared in Episode 6. We asked her about what it was like being in a dubbing studio for the first time and her experiences performing her role for us!
--- First of all, please tell us how you feel about being part of the dubbing cast.
Standing in front of that microphone, it felt like my dream was coming true! I won't be able to forget the feeling of standing in the dubbing studio just like I'd been wanting to my entire life!
I was nervous throughout the entire recording process, but everyone on site was friendly and welcoming, and I was able to have a lot of fun as I performed. I'm really happy I was able to participate in this wonderful story.
--- Please tell us if you have any impressions or sympathies regarding your character Kaki. Was there any lines that caught your interest?
I got the impression Kaki-chan was innocent and cute. I'm shy so I'm envious of Kaki being able to get along with Null-chan so easily after only meeting her for the first time. I also sympathize with Kaki-chan's doubts about everything in daily life. If I don't understand something, I also tend to look it up straight away and I think that's something we have in common.
One line that left an impression was "Did you know that even though snow cone syrup has different colors, they all taste the same?" I didn't actually know that, so that was one surprising fact Kaki-chan taught me!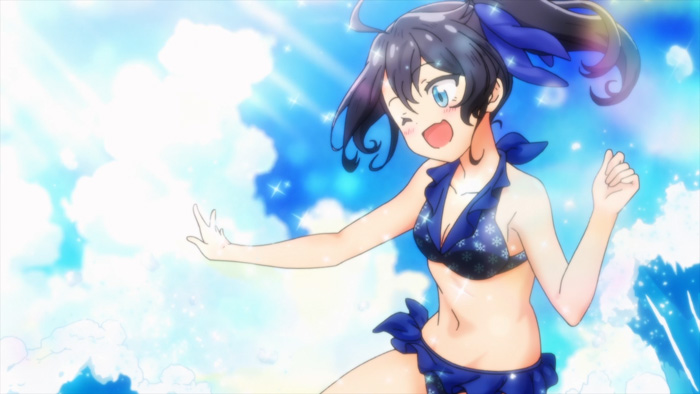 --- Was there anything that caught your attention or that you fussed over when playing your role as Kaki? Or did you feel like it was a difficult role?
I wanted to express Kaki-chan's innocence so I made sure to always perform with a smile. It was also really difficult to perform with a dialect. Okayama dialect is one of Kaki-chan's charms and not something I was familiar with, so I practiced it many times. I'll be really happy people notice the cute Okayama dialect.
--- Finally, please give some of your own comments to the viewers.
I also enjoy watching Null & Peta. Its cute characters are soothing for the soul and I love it so much. But on top of that, the story has some surprising turns and you won't be able to stop watching after some upcoming twists! So let's enjoy Null & Peta together from now on!